Golf balls, new containment dome on deck to stop Gulf oil spill
BP is open to suggestions from the public on how to plug the well gushing thousands of gallons of oil per day 5,000 feet below the surface of the Gulf of Mexico.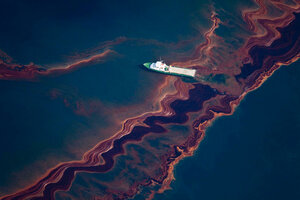 Daniel Beltra/Reuters
A four-story containment dome meant to restrict oil from gushing further into the Gulf of Mexico failed this weekend, leaving recovery officials to move forward with alternate plans, none of which have been tested 5,000 feet below the water's surface.
The extreme depth remains the greatest challenge in trying to stop the release of the 210,000 gallons of oil per day that have been spewing from an undersea well off the coast of Louisiana since a blowout caused the Deepwater Horizon rig to explode April 20.
BP, the well owner and tanker operator, is blaming a failed blowout preventer, an underwater valve designed to stop leaks, for the spill. Efforts to prevent the oil from spreading include spreading chemical dispersant from planes to break up the oil's consistency, as well as laying a million miles of boom to absorb the oil before it reaches the gulf shore.
IN PICTURES: Destructive oil spills
"This is the largest, most comprehensive spill response in the history of the US in the oil and gas industry and it actually has done, in many people's estimations, a very good job of containment," BP Chief Executive Tony Hayward said in a conference call with reporters Monday.
But just because oil is not washing ashore does not mean it is not on its way. The rate of the oil's movement relies on a combination of wind and ocean currents, both of which were calm last week due to good weather. The oil's consistency may also be such that it is infiltrating the water column below the surface.
---