More Americans on the move: why that's a good thing
More Americans moved last year than in 2008, according to the Census Bureau, suggesting that the economy is improving. But the mobility rate is still at historic lows.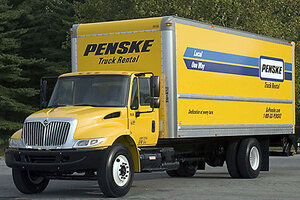 Penske Truck Leasing Co./PRNewsFoto/File
Americans are moving again, following a recession-induced plunge in mobility. But the mobility rate is still at historic lows as housing costs and few job opportunities keep many Americans hunkered down.
Some 37.1 million Americans, or 12.5 percent of the population, moved in 2009, according to the Census Bureau. That's up – barely – from 11.9 percent the previous year, the lowest the US mobility rate has been since the Bureau began tracking it in 1948.
A normal rate during good economic times, such as in the 1990s, is between 15 and 17 percent.
"What the [recession] has done is frozen people in place," says Kenneth Johnson, a senior demographer at the Carsey Institute and a professor of sociology at the University of New Hampshire in Durham. "I've never seen changes of this magnitude in so short a period: It's stunning for demographers."
But the fact that the mobility rate is still very low is bad news for the economy, says Richard Florida, professor of US urban theory at the University of Toronto.
---