FBI raids in Times Square probe: What were they looking for?
The FBI raids in Brookline and Watertown, Mass., and on Long Island, N.Y. were likely following-up on information gained from the interrogation of Faisal Shahzad, a suspect in the Times Square probe.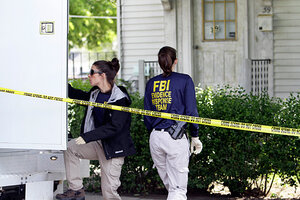 Steven Senne/AP
What were federal agents looking for as they searched locations in Massachusetts and New York on Thursday in connection with the Times Square probe?
Most likely, they were looking for people whom bomb suspect Faisal Shahzad had told them to pick up. Federal authorities have indicated that Mr. Shahzad is cooperating with investigators, and enough time has passed since his arrest on May 3 for the FBI to follow up on any leads he has provided.
Agents on Thursday morning searched a small house in Watertown, Massachusetts, as well as a site in Brookline, Massachusetts, and another on New York's Long Island, according to an FBI spokesperson. Two people encountered during the raids were arrested on immigration violations, said the FBI. The raids targeted money couriers, CNN reported.
The searches were the result of evidence developed during the Shahzad investigation, but there is "no known immediate threat to the public or any active plot against the United States", FBI spokeswoman Gail Marcinkiewicz said.
Some US officials have said they believe Shahzad was a "lone wolf" who had no real confederates in an attempt to blow up a vehicle in Times Square.
---