Gulf spill oil driven by complex ocean currents and eddies
The BP oil spill in the Gulf of Mexico is far different than the Exxon Valdez spill in Alaska. The complex marine environment has currents and eddies that could carry the oil anywhere in the Gulf.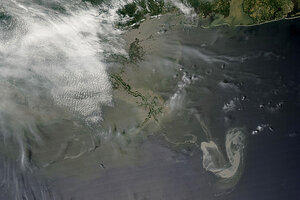 Newscom
Oil boom stretches along empty beaches, tar balls have washed ashore along the Alabama and Mississippi coasts, and a swirling, oily sheen covers at least 2,500 square miles of the sea surface in the Gulf of Mexico.
So far, currents, winds, and a plume of fresh water flowing into the Gulf from the Mississippi River have acted in concert to hold at bay the oil spewing from a damaged well head 5,000 feet below the sea surface some 40 miles off the Louisiana coast.
In anticipation of the oil's arrival, some 13,000 people stand ready to combat the spill if it approaches shore, according to the Obama administration. More than a million feet of boom has been deployed. More than half a million gallons of dispersants has been applied.
IN PICTURES: Louisiana oil spill
For anyone using the Exxon Valdez spill in Alaska's Prince William Sound as a visual reference point, it might look as though the Gulf spill so far is a dodged bullet.
---