Is Greyson Chance's serendipitous Youtube rise a ruse?
His meteoric ascent to millions of Youtube views and maximum-exposure media tour have some questioning whether there's a Big Media hand behind sixth grader Greyson Michael Chance.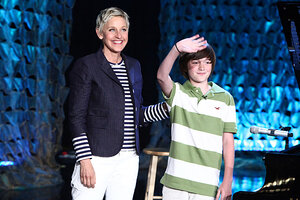 Michael Rozman/AP
Greyson Chance, the latest online singing phenomenon, has parlayed his Lady Gaga interpretation into the kind of instant celebrity that would make marketing professionals swoon. From a 12-year-old singing at a local choir festival to performing on Ellen Degeneres's TV hour and being profiled by Diane Sawyer all in one week is pretty heady stuff for anyone, let alone a sixth grader at Cheyenne Middle School in Edmond, Oklahoma.
Within the past two weeks, this aspiring young singer/songwriter has seen the rise of a Facebook page, a Youtube channel, and countless fan pages all joining to maximize his exposure.
All of which tell a story about how quickly things are changing online, says Miles Beckett, CEO of social entertainment company EQAL. Just a few years ago, he says, "you would go to the site that fit what you were doing and get popular there and that was it. Now," he points out, "there are all these places to go at once – Facebook, Twitter, Youtube … and more, and you can leverage your content all over at once."
Another big change, he adds, is the sheer volume and quality of content flooding online. Flash celebrity is something he knows a bit about – Mr. Beckett became an online celebrity back in 2006 when he and his partner created the seminal "lonelygirl15," a hit online video journal that became a media sensation when fans discovered "Bree," the diarist, was a fictional creation and not an actual pining teen.
---