Gulf oil spill targets Florida beaches as it nears loop current
New forecasts suggest that the loop current could carry the Gulf oil spill to Florida beaches within the next eight to 10 days. After that, it could reach the Atlantic Ocean.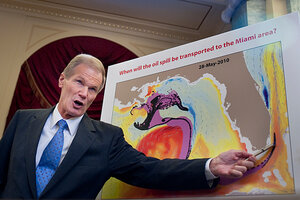 Newscom
Oil from the Deepwater Horizon oil spill may soon move south where it is expected to impact the Florida coast as soon as eight to 10 days.
Officials from the National Oceanic and Atmospheric Association (NOAA) told reporters Tuesday that the so-called loop current, a fast-moving underwater current from the Caribbean has the potential to pick up oil from the south end of the slick and rotate it into the direction of the western coast of Florida, where it will be picked up by the Gulf Stream and taken in the direction of the Atlantic Ocean.
IN PICTURES: Louisiana oil spill
Sensors in the water will help gauge the water's temperature and direction, officials say. Persistent onshore winds and underwater temperatures will be factors in determining when or if the oil will hit Florida shorelines.
"This is a time for awareness and preparation but not overreaction," said Jane Lubchenco, NOAA undersecretary of commerce for oceans and atmosphere.
Tar balls in the Keys
Oil in the form of tar balls is already washing ashore in the Florida Keys. Ms. Lubchenco said they are on their way to a Coast Guard laboratory in Connecticut where testing will determine if they came from the oil spill that started with a blowout on the Deepwater Horizon April 20.
---