Gulf oil spill: What if BP taps leaking Macondo well again?
BP says its only priority is to shut down the Macondo well responsible for the Gulf oil spill. But industry experts say BP could still try to get oil from the well in the future.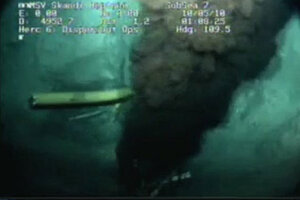 Senate Environment and Public Works Committee/AP
Even after the Gulf oil spill, it remains possible that, someday, someone's car could be running on gasoline produced from the oil field currently spewing its contents into the Gulf of Mexico.
This might seem like a strange notion given the trouble that the so-called Macondo prospect has caused and the fact that the Deepwater Horizon oil rig above it exploded on April 20 and sank two days later. But energy analysts believe that BP may ultimately decide to develop the discovery even though it is not considered to be a giant oil field.
The main reason: the Macondo field is near other BP operations, so its oil – considered ideal for gasoline – could be piped ashore without a lot more expense.
IN PICTURES: Louisiana oil spill
"If it were my decision, from a corporate perspective, I would seriously consider development," says David Dismukes, associate director of the Louisiana State University Center for Energy Studies in Baton Rouge. "They have already made the investment to understand the play and sunk a certain amount into it, so I would find it hard to believe they would walk away."
First things first
---
Follow Stories Like This
Get the Monitor stories you care about delivered to your inbox.