Paris art heist: The chances of recovery aren't good
Finding stolen artwork can take decades, and a fraction of works are recovered. In the Paris art heist, five paintings – including a Picasso and a Matisse – were stolen Thursday from a museum.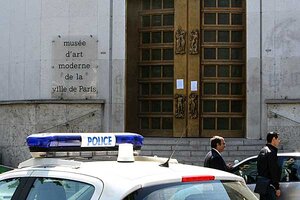 Jacques Brinon/AP
Stolen artwork, like the five paintings stolen Wednesday in a brazen, high-profile heist in Paris, is rarely recovered.
As little as 5 percent of stolen artwork is recovered, according to Marlinda Simon, an independent art investigator in Argentina.
The Art Loss Register, the world's largest database of lost and stolen art, puts that figure at 12 to 15 percent.
IN PICTURES: Famous art heists
In the Paris art heist, one of the biggest art thefts in history, a masked thief broke into the Paris Museum of Modern Art and stole five paintings, including a Picasso and a Matisse. (The paintings were originally thought to be worth as much as $600 million, but subsequent reports have put the value at slightly more than $120 million.)
"This was a very sophisticated theft, a very brazen one, to take on a major French museum," says Chris Marinello, executive director of the London-based Art Loss Register. "You don't take on a major French museum without a plan. In this case, we may see a ransom demand, or they may wait for the insurance company to pay out."
The theft was discovered Thursday morning before the museum was to open. Security cameras at the museum showed a hooded man shearing off a gate padlock, smashing a heavily reinforced ground-floor window, and disabling a security system before climbing inside and stealing five paintings.
---