With fishing grounds closed by Gulf oil spill, what's a shrimper to do?
The Gulf oil spill is fraying tempers and hope in Grand Isle, La., where shrimpers are idle during what would normally be the start of their busiest season.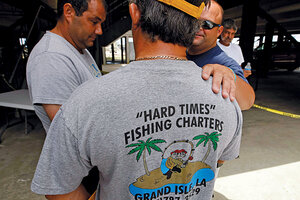 Rick Wilking/Reuters
From the deck of his brother's shrimp trawler at Grand Isle's commercial fishing docks, Terrill Pizani can point out the pine tree on Oak Street where his house once stood.
"There used to be 17 houses down this street," says the middle-aged Mr. Pizani, looking down the empty gravel road leading to the marina. "Hurricane Katrina washed away every single one of them."
With the hint of a shrug in his voice, his brother Terry adds: "After a hurricane, you ... clean up and then get back to shrimping,"
Yet today, there is little hope in Grand Isle that the same bootstrap mentality will help them weather the disaster currently unfolding in slow motion in the Gulf of Mexico.
While Katrina-esque red tape looms – again, residents must negotiate with bureaucracies to recoup lost livelihoods – the Gulf oil spill has brought something unique and far more insidious to Louisiana's Gulf Coast: a corrosive uncertainty.
From day to day, fishermen do not know whether the state will let them take their boats out shrimping. They do not know if BP is ever going to call, asking them to put down protective booms – as the company has said it would. They do not know what to do if they have to continue living off occasional $5,000 BP assistance checks – less than one-third of what a single shrimping trip can bring in. Most important, they do not know when this is all going to end.
---