Arizona immigration law: boycotts starting to take a toll
Boycotts from Mexico and several US cities aren't likely to throw Arizona back into a recession, but the fallout from the Arizona immigration law is hurting some businesses in the short term.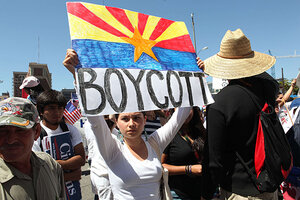 Krista Kennell/Sipa Press/Newscom
At the Adobe Rose Inn Bed and Breakfast just two blocks from the University of Arizona, the phone calls from potential visitors have all but stopped, and innkeeper Jim Hook suspects he knows the reason: the state's controversial immigration law.
The law, which requires local and state authorities to determine the status of suspects they believe to be in the country illegally, has spawned economic boycotts and legal challenges since Gov. Jan Brewer signed it in April, and those boycotts appear to be having an effect.
IN PICTURES: The US/Mexico border
So many meetings and conventions are being canceled that the Arizona Hotel & Lodging Association has stopped keeping track. The streets of Nogales, Ariz., often filled with Mexican shoppers, were so empty during a recent boycott that stores closed early. And Mr. Hook of the Adobe Rose knows of at least one family that canceled its reservations because of the law – taking a trip to Boston instead.
---
Follow Stories Like This
Get the Monitor stories you care about delivered to your inbox.