Gulf oil spill: Is MMS so corrupt it must be abolished?
Lawmakers are looking at how to reform the Minerals Management Service (MMS), which oversees offshore drilling. Reports before and after the Gulf oil spill show it is deeply intertwined with Big Oil.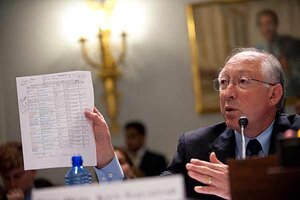 Newscom
The Department of Interior's Minerals Management Service (MMS) is peopled by those who hold the strings on America's natural treasures and is courted by those who, like the Deepwater Horizon drillers, want to exploit those resources.
Yet in the aftermath of the Deepwater Horizon accident, it is becoming apparent that the firewall that should exist between these two groups – the regulators and the regulated – is closer to a revolving door.
The Gulf oil spill has given fresh urgency to calls to reform the MMS, which has long been accused of having too cozy a relationship with Big Oil. But as the process of reform starts, new reports are revealing just how intertwined the MMS and Big Oil are – and how difficult it will be to separate one from the other.
IN PICTURES: Louisiana oil spill
Sen. Jeanne Shaheen (D) of New Hampshire went so far as to suggest in a letter to Interior Secretary Ken Salazar Wednesday that the agency be abolished entirely and rebuilt from scratch.
---