How to watch BP live video feed of 'top kill' maneuver
The BP live video feed of the underwater leak will continue to stream during the 'top kill' maneuver, after pressure from Washington. But what you see in the moment may not mean much, BP warns.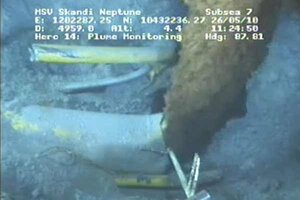 BP live video feed screengrab
It's not quite "American Idol," but the BP live video feed of the Deepwater Horizon gusher has fueled plenty of political drama and drawn millions of viewers eager to witness the distressing plume of free-flowing oil spilling into the Gulf of Mexico.
Now the plot thickens as BP aims to move forward with a high-stakes "top-kill" procedure where the company will attempt a first: plugging a violent leak in waters a mile deep, using a mixture of mud, viscous fluids, and even golf balls. Watch the BP live video feed here.
BP first announced it would shut down the video feed during the procedure, but pressure from a White House that has vowed transparency ensured that the American public will get to view the effects of the procedure on the flow of oil.
"Our push is for BP to be transparent, and what you're seeing today in terms of the top kill operation is in part a response to our directive," Interior Secretary Ken Salazar told the House Natural Resources Committee.
---