Active hurricane season ahead: too soon to tell oil spill's impact
The National Oceanographic and Atmospheric Administration (NOAA) released its hurricane season forecast Thursday, acknowledging that oil released by the BP Gulf oil spill could come into play if not cleaned up.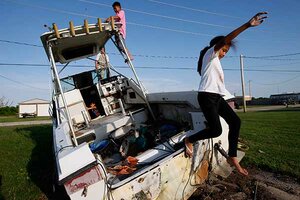 Patrick Semansky/AP
The 2010 Atlantic hurricane season, which begins June 1, is shaping up to be an active one.
That's the assessment from the National Oceanic and Atmospheric Administration's Climate Prediction Center (CPC) in Camp Springs, Md., which released its seasonal forecast Thursday.
The assessment dovetails with several other seasonal projections, including an outlook issued in April by researchers at Colorado State University who have pioneered seasonal hurricane forecasting for the Atlantic basin.
The prospect for a higher-than-normal number of tropical cyclones is taking on added gravitas along a Gulf coast already grappling with the effects of a major offshore oil blow-out that began April 20.
During a press briefing lay out the seasonal outlook, NOAA Administrator Jane Lubchenco acknowledged that a hurricane's storm surge could drive any residual oil from the blow-out into coastal wetlands. But, she added, much depends on a storm's track.
Because high winds from hurricanes also lead to significant upwelling of colder water from deeper beneath the surface, any oil droplets still suspended in those waters also could return to the surface and carry ashore. And any oil on the bottom in near-shore areas could get stirred up and transported inland as well.
---