Did BP intentionally 'low-ball' the extent of the Gulf oil spill?
US Geological Survey estimates on the flow of oil from the wrecked wellhead are more than double what BP has been claiming, leading some to accuse BP of misrepresenting the flow of oil to minimize fines.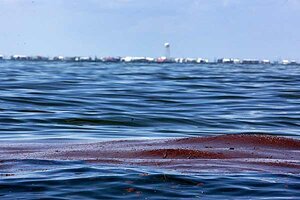 Sean Gardner/Reuters
BP may have known the flow rate from the underwater oil leak in the Gulf of Mexico was two to four times higher than the estimate the company announced last month, according to a technical group commissioned by the US Geological Survey (USGS).
Some, including a Massachusetts congressman, are saying the company may have relied on the lower estimate to prevent future penalties from the federal government, which are based upon the number of barrels released in a spill.
The USGS is reporting the flow rate from the underwater wellhead in the Gulf is between 12,000 and 19,000 barrels per day. BP has stated their estimates put the flow rate at 5,000 barrels per day. At the high end, the new estimate puts the amount of oil released into the Gulf at close to three times the amount spilled after the tanker Exxon Valdez ran aground in Alaska's Prince William sound in 1989.
---