BP oil spill: Louisianans want more from Obama ... but more what?
With Obama in Louisiana Friday to assess the response to the BP oil spill, residents have strong views about what needs to happen next. But their ideas can conflict, and expectations are low.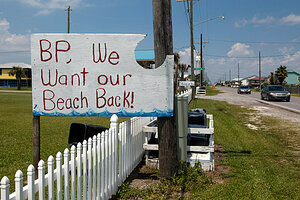 Jae C. Hong/AP
Arriving in Louisiana Friday to counter increasing criticism of his handling of the BP oil rig disaster, President Obama will find few allies and low expectations in a region still stinging from the government's botched response to hurricane Katrina.
Mr. Obama, responding to criticism that his administration was too slow to act on the Deepwater Horizon disaster, declared at a White House press conference on Thursday that "the federal government is fully engaged, and I'm fully engaged." Asserting that his administration was in charge of BP's efforts to cap the gushing oil well and contain the spill, the president added that he should have pushed BP executives earlier to provide images of the leak and accurate measurements of the spill's size.
---