BP oil spill: Will the 'sweeping arm system' from the Dutch help?
The Dutch government is supplying six sweeping arm systems for the BP oil spill. The technology involves a skimmer that picks up oil and water and then separates the two.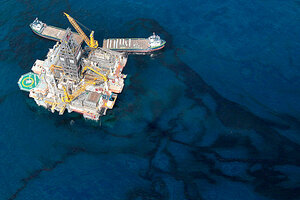 Jae C. Hong/AP
The Dutch government is giving BP officials in the Gulf of Mexico advanced oil recovery technology it says will be more effective than previous efforts.
The technology, called the sweeping arm system, was developed by the Dutch in the early 1970s and has been used to successfully combat oil spills – including high-profile disasters involving the Sea Empress, off the coast of Wales, in 1996; and the Prestige, off the coast of Spain, in 2002.
On Sunday, the Dutch sent six such systems by airfreight to Houston. They're also sending a six-member team that can reassemble the parts, load them onto tankers, and train a workforce from T&T Marine – a Galveston, Texas, contractor that BP hired to lead the emergency response effort. The operation should be ready for the BP oil spill in 10 days, says Sjon Huisman, an adviser with the Netherlands's Ministry of Transport, Public Works and Water Management.
---