BP live feed 'spillcam' now offers 12 views of oil spill
Already an Internet phenomenon, the BP live feed – which helped galvanize public concern about the Gulf oil spill – has broadened its offerings. On display Thursday: BP is attempting a 'top cap.'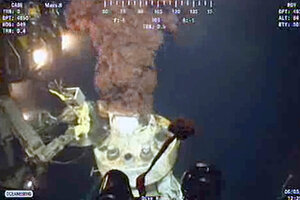 BP/Reuters
Armchair explorers received a big bonus Thursday when BP, at the request of a congressman, made available all 12 live feeds documenting the drama taking place 5,000 feet below the surface of the Gulf of Mexico.
The BP live feed – or spillcam – has given an often-harrowing glimpse into the Apollo 13-like mission to cap a runaway well fouling the US Gulf Coast. Millions have tuned in since it went live last month.
Although 12 video feeds have already been in use, only one at a time was available to the public until now. The images are used to help conduct the work at the Macondo wellhead.
IN PICTURES: Louisiana oil spill
"These dozen views of the spill will finally provide the American public and independent observers the unfettered access needed to assess both the progress and destruction happening a mile below the Gulf," said Rep. Edward Markey (D) of Massachusetts, in a press release taking credit for the channel expansion. "The release of the Spillcam brought the urgency of this disaster into homes across the United States, and this new level of transparency will allow for robust, real-time information to the world."
---
Follow Stories Like This
Get the Monitor stories you care about delivered to your inbox.