BP oil spill: Next step is to attach a giant garden-hose seal
BP succeeded in making a 'rough cut' of the riser pipe at the bottom of the Gulf of Mexico. Next up is moving a cap with a garden-hose-type rubber seal over the pipe. How tight that seal is will determine if the BP oil spill is mostly capped.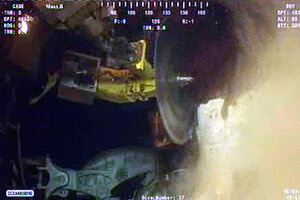 BP/Reuters
Embattled oil giant BP made headway in containing the gushing Macondo well Thursday morning, severing a piece of riser pipe to make way for a "top cap" device with a garden-hose-type seal designed to siphon leaking oil to surface tankers.
The "top cap" is Plan D in the 44-day effort to stop the leak. If successful, it could largely stem a flow estimated to be pouring as much as 19,000 barrels of oil a day into the Gulf of Mexico. BP had a temporary setback Wednesday, as a gambit to use a diamond-bit saw to make a fine cut of the riser pipe failed after the saw became stuck in the pipe. Overnight, large metal cutting shears were used instead.
Once the top cap is fitted, "we could be lucky and there is no [oil flow], but there could be some," said incident commander Adm. Thad Allen of the US Coast Guard on Thursday.
IN PICTURES: Louisiana oil spill
A government oil-flow study group estimated that, after the robotic subs at the site cut the pipe, up to 20 percent more oil could escape. It was not clear Thursday morning if more oil is escaping now, as BP attempts to move the top cap into place.
Currently, the well is emptying at a pressure of 9,000 pounds per square inch (psi). The pressure of the water at 5,000 feet is counteracting that pressure and bringing the flow pressure at the wellhead to 3,500 psi. For comparison, a crocodile's bite is measured at 5,000 psi.
---