Lackluster Memorial Day box office: Economy or bad films to blame?
Big-name films including the Sex and the City sequel failed to draw the audiences expected on the traditional kick-off of the summer movie season.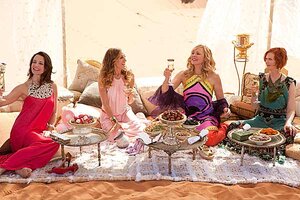 Craig Blankenhorn/Warner Bros./AP
Hopes for a boffo summer box office have taken a serious hit after the worst Memorial Day weekend audience turnout at the cineplex since 1993.
According to Hollywood.com, only 23.4 million patrons ponied up for what is traditionally the big, blowout kickoff weekend for warm-weather moviegoing. The disappointing numbers have experts poring over the somber picture for hints about why such big-name films as "Prince of Persia: The Sands of Time" with Jake Gyllenhaal and "Sex and the City 2" with its returning cast failed to woo fans – and what it all means for the future.
The economy is still first and foremost, says the firm's box office analyst, Paul Dergarabedian. "People are pushing back a bit as ticket prices begin to top the $20 mark," he says. "Families are feeling the pinch as even kid's ticket prices are heading up to $14."
And then, of course, there are the films. "Good movies will bring people into the theater," says Dan Hudak, multimedia film critic and creator of Hudakonhollywood.com. The sequel to the HBO TV show cult hit was just plain bad, he says, and the video game-inspired "Prince" did not rise above its origins.
"Hollywood is just underwhelming moviegoers," he says, "and I don't see any light at the end of the tunnel," pointing to the four uninspiring films opening this weekend. They range from the family feature "Marmaduke" to an R-rated, raunchy Judd Apatow-produced comedy, "Get Him to the Greek."
---
Follow Stories Like This
Get the Monitor stories you care about delivered to your inbox.