Obama and BP: Still on the same team in Gulf oil spill clean-up?
The Obama administration has sought to distance itself from BP this week, repeatedly criticizing BP for its efforts in the Gulf oil spill clean-up. But behind the scenes, cooperation continues.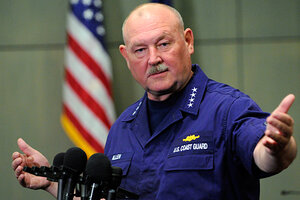 Cheryl Gerber/AP
The gloomy waltz between the White House and BP over the Gulf oil spill clean-up has changed tempo.
This week, the Obama administration has attempted to make a break from BP, keenly aware that mounting American anger at BP's handling of the oil spill could begin to threaten its own standing, as well.
So far, the separation has been mostly symbolic and rhetorical. The federal government has not seized any authority from BP in the company's efforts either to contain the gushing well or protect shorelines and wildlife from its impact.
But it ceased joint news conferences this week, sending the message that the government was no longer interested in presenting a unified front with BP. And cabinet officials – with President Obama in the lead – have taken any opportunity to express their outrage at BP's inability to contain the slick.
It is a difficult balancing act. Politically, Obama needs to distance himself from BP. Legally, his administration needs to investigate the company and not only pursue civil and possibly criminal charges related to the April 20 explosion on the Deepwater Horizon, but also to press for BP to pay every cent of the cleanup. It sent a $69 million bill to BP Thursday.
But practically, Obama still needs BP, which has technology and offshore-drilling know-how that the federal government does not have, and is therefore better placed to stop or contain the leak than is Washington.
---