'Top cap' on BP oil spill not tight enough as crude keeps spewing
Undersea video coverage Thursday night showed engineers lowering a 'top cap' over a severed riser pipe at the bottom of the Gulf to contain BP oil spill. The company hopes to contain 90 percent of the geyser.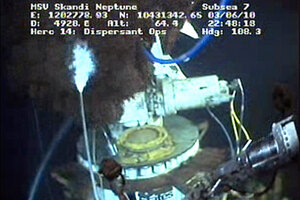 BP/Reuters
The plume of oil continuing to flow Friday morning at the bottom of the Gulf of Mexico signals that BP has not yet fully succeeded in sealing the source of the BP oil spill and siphoning the captured oil to a tanker on the surface – at least not yet.
BP engineers, with government scientists looking over their shoulders, on Wednesday cut a crumpled riser pipe left over from the sinking of the Deepwater Horizon rig on April 22. Subsea "disaster bots" failed to make a clean cut with a diamond-tipped saw on Thursday, jamming it instead into the pipe. After extracting the fine-cut saw, engineers opted for a pair of giant shears to lop the pipe. As bots later filmed the lowering of the "top cap" – a sort of giant garden hose seal – over the lower marine riser package at the top of the well, oil continued to spew from the scene.
More than 100 miles of marshland and beaches are already tarred, and a fishing area the size of Florida is closed in the Gulf.
---