What popularity of the BP live feed 'spillcam' says about us
The BP live feed of the Gulf oil spill is proving to be mesmerizing to millions of Web viewers.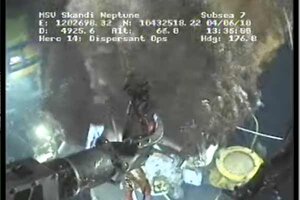 BP
The techno-theatrical drama playing out at the bottom of the Gulf of Mexico has drawn viewers around the world deep inside the BP oil spill.
The BP live feed looks like something out of James Cameron's "The Abyss," but the stakes are very real for the Gulf Coast and perhaps even the nation as it looks toward energy independence. As they flicker on computer screens around the world, the images from the BP live feed not only give a glimpse into the deep-sea stillness around a violent oil geyser, but become, for some, an example of how technology can, nearly second by second, provide a filter-free view of a breaking news event for a public used to more "spin" in its press.
"This is definitely on the scale of a historical moment, and we're watching it live, in color, on the Internet – forget YouTube, right?" says Kevin Grandia, a BP live feed buff and a blogger at EnergyBoom.com. He, like many of the 700,000 viewers of the spill at EnergyBoom.com, has the HD-sharp images open on his laptop at work. For Mr. Grandia, the power of the feed is "bearing witness."
---