Enter the no-spin zone of the deep: the BP live feed
The last thing BP wanted was images of the undersea oil plume in the Gulf shown to the world. Yet the live 'spillcam' of the Deepwater Horizon geyser may have tempered ill-will against BP.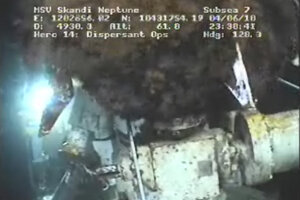 BP PLC/AP
It was the last thing BP wanted: An open, high-definition live video feed – a "spillcam," if you will – showing in excruciating detail the massive oil geyser fouling the Gulf of Mexico, a situation admittedly caused by the giant extractive firm.

But after a series of PR disasters – waffling, obfuscating, misplaced optimism, a gaffe-prone CEO – the decision by BP, under pressure from Congress, to put the live feed on the air is reaping some unexpected plaudits for the company. Indeed, BP expanded the feed from one to 12 simultaneous views last week, again under pressure from Congressman Ed Markey.

The BP live feed has become an Internet phenomenon, playing on traders' laptops on Wall Street and kept on all day in office cubicles across America.
IN PICTURES: Louisiana oil spill
The fact is, since the spillcam came online, public approval of BP's work has stopped its freefall, and even inched up a smidgen, according to a new CBS News poll.

"You can see why BP was so reluctant to put that camera down there in the first place," says Kevin Grandia, who promotes alternative energy as a blogger on EnergyBoom.com. "Yeah, it's not good public relations in their mind, they can't spin-doctor it, but I hope they appreciate the fact that … it does show a willingness and a level of transparency and authenticity that people are going to appreciate more than anything they could spin."
---