Key lawmakers resist Obama's pick of Clapper as intelligence chief
Retired Air Force Gen. James Clapper has plenty of experience in the intelligence bureaucracy. But key lawmakers aren't happy with Obama's pick to be Director of National Intelligence.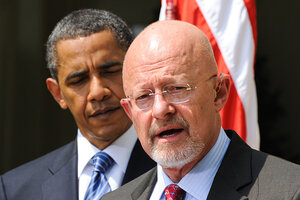 Newscom
US intelligence capabilities are sprawled across many powerful agencies. And reflective of the kind of operations the clandestine services organize and carry out daily around the world, there's a lot of close-in fighting – within and between the bureaucracies, just as there is on the ground in physically dangerous places.
James Clapper – the man President Obama has picked to be the next Director of National Intelligence (DNI) – takes over a post created five years ago in response to the intelligence failings leading up to the terrorist attacks of Sept. 11, 2001, when the aim was to coordinate often fractious agencies, including the CIA and the White House office of counterterrorism.
Mr. Clapper has plenty of relevant experience. Since retiring as a US Air Force general, he's headed the Pentagon's intelligence operations, the National Geospatial-Intelligence Agency, and the Defense Intelligence Agency. He knows where many of the skeletons lurk, and he's not afraid to butt heads – as he did with former Defense Secretary Donald Rumsfeld, which cost him his job at the time.
---