At annual meeting, Christian Scientists celebrate 'pearl of great price'
The annual meeting of Christian Scientists Monday focused on the church's healing ministry. It also reported improved finances since last year.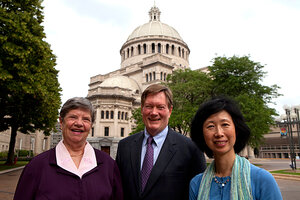 Melanie Stetson Freeman/The Christian Science Monitor
What is the "the pearl of great price" referred to by Christ Jesus in the Bible?
For members of The First Church of Christ, Scientist, gathered at their annual meeting in Boston Monday, it is the discovery of Christian Science by Mary Baker Eddy, in the late 19th century. She founded the church, she wrote, to "reinstate primitive Christianity and its lost element of healing."
Jesus' reference to the "pearl of great price" in the book of Matthew was the theme of the meeting, attended by about 1,400 church members at the denomination's home church in Boston, known as The Mother Church, and by thousands more via the Internet.
Members heard testimonies of physical healings from members, both live and on video, as well as reports from church officers, including a brief update on the church's finances.
The church owns, operates, and provides primary funding for The Christian Science Monitor, the online newspaper and weekly magazine begun as a daily newspaper by Mrs. Eddy in 1908.
"I see on an everyday basis the evidence for Christian Science healing," said Bill Dawley, editor of the church's religious periodicals and broadcasts via a recorded video. "When I see healings of the symptoms of things like Alzheimer's disease, cancer, diabetes – testimonies like that just say to me that the power of Christian Science is as strong today as it was when Mrs. Eddy discovered this great truth."
---