BP live feed doesn't lie: Is BP oil spill plume worse than before?
BP says it's capturing the 'majority' of oil from the Macondo wellhead after placing a 'top cap' siphon on it last week. Yet judging by the size of the plume on the BP live feed, some fear the BP oil spill is even worse after the operation than before.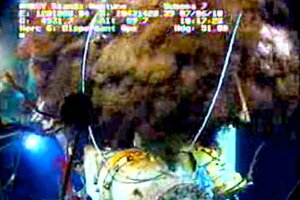 BP/Reuters
Once constricted by the crumpled riser pipe, the full flow of the runaway Macondo wellhead in the BP oil spill burst forth last week when BP sawed through the pipe left over from when the Deepwater Horizon rig exploded and eventually sank on April 20.
BP placed a "top cap" device with a rubberized seal on top of the pipe to siphon away the oil, a move that some marked as a long-awaited breakthrough in the six-week battle against geologic forces, tapped by man, that now threaten the ecology and livelihood of the US Gulf of Mexico.
But judging from recent images from the BP live feed "spill cam," the gusher is still gushing – and hard. And even if BP is capturing 14,800 barrels a day, as Coast Guard Adm. Thad Allen said it did yesterday, the increased flow at the wellhead itself could, some scientists say, mean the operation is a wash, or may even have worsened the ultimate flow as a result.
---