BP buys 'oil spill,' related Internet search terms to manage message
BP is paying for prime placement when people search for 'oil spill.' Public relations experts have criticized the practice as in poor taste.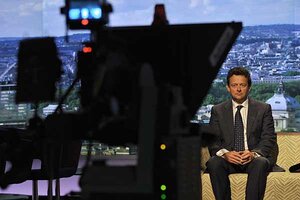 Jeff Overs/Reuters
Whether it's a $50 million TV commercial blitz or BP CEO Tony Hayward snapping to a reporter that he wanted "his life back," the company behind the nation's worst oil disaster in history can't seem to get its message right.
Now, the latest media misstep, according to media watchdogs and industry experts: the company has been buying up the top Internet search terms such as "oil spill" or "BP" – a move that places its corporate website at the top of search results pages.
"At minimum, this is in extremely poor taste in the midst of such a disaster," says Lisa Graves, executive director of the Center for Media and Democracy. But more important, she says, "it's highly likely" that the average Internet user doing a search on any of the key terms associated with this spill would mistake the paid link for a genuine source of real information.
"Most people assume when you do a search that the things that appear front and center are in some sense the most important," says Fordham University media maven Paul Levinson. "The average person searching online isn't aware of the fact that there are ways to manipulate the way things come up in searches," he adds. The author of "New New Media" says he has never been comfortable with the idea that information placement was for sale on the Internet, adding, "Google ought to rethink its policy."
---
Follow Stories Like This
Get the Monitor stories you care about delivered to your inbox.