BP takes Gulf oil spill heat, but what about other companies?
BP accepts responsibility for the massive Gulf oil spill, making it a lightning rod for public rebuke. But other companies, including Transocean and Halliburton, may be legally liable, too.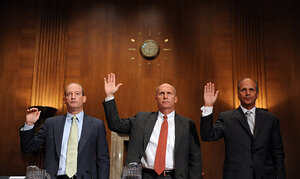 Newscom
In headlines and among the public, the environmental disaster in the Gulf of Mexico typically is referred to as "the BP oil spill."
But, the oil giant will not be the only company facing legal battles, and it may not be the sole entity found responsible. So, why is BP taking all the heat for what has become the largest offshore oil spill in US history?
The company has claimed full responsibility for both the spill and for whatever is necessary to clean up the oil that continues to flow. And in doing so, the company has become a lightning rod for public rebuke and boycotts of its products worldwide.
IN PICTURES: The Gulf oil spill's impact on nature
"I think they had no choice because it was their well," says Peter Henning, a former Justice Department prosecutor now at Wayne State University Law School. "One of the big oil companies always takes the heat."
Though Mr. Henning said BP likely will be taking most of the blame, it was not the only company working on the Deepwater Horizon oil rig when it exploded on April 20, killed 11 crew members and flooding the Gulf with oil.
---