BP: We've been too slow to pay Gulf oil spill claims
A federal official said Thursday that BP acknowledged it has been too slow in paying claims to people affected by the Gulf oil spill. BP has vowed to streamline the process.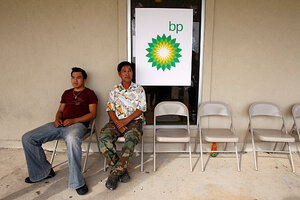 Patrick Semansky/AP
From Washington to Gulf Coast waterfronts, pressure is mounting on BP to ramp up its efforts to compensate people whose lives and livelihoods have been put on indefinite hold by the Gulf oil spill, now in its seventh week.
Business owners in the Gulf are increasingly unhappy with what many see as a claims process tripping over its own red tape.
During a meeting with federal officials yesterday, BP acknowledged that the pace of payouts isn't fast enough, according to Tracey Wareing, an official with the Federal Emergency Management Agency assigned to oversee the claims process.
IN PICTURES: The Gulf oil spill's impact on nature
BP appears to be learning about regionwide claims management on the fly, just as it was learning about containing oil flowing from its ruptured undersea well on the fly. Officials say they have trimmed the time it takes to process claims and cut checks from nearly a month and a half to two days.
The company is shifting to a system that pays out claims in advance "to allow businesses to pay their expenses for the upcoming month," rather than forcing businesses losing money from the spill to continually play catch-up with last months' bills, she said during a press briefing today.
At the same time, she said the unified joint command has asked BP to make sure it paces the compensation to match the the seasonal nature of some of the work in the region. If a small business makes most of its income during the summer, then it should receive its largest compensation checks during that period, rather than in 12 equal monthly installments.
---