In BART murder case, police brutality, video evidence on trial
The trial of an Oakland, Calif. BART police officer may reveal judicial attitudes toward video evidence and police brutality, legal analysts say.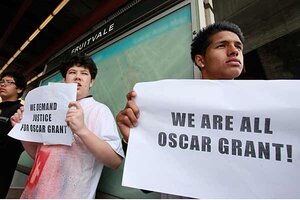 Paul Sakuma/AP
Almost 20 years after the trial in the beating of Rodney King, eyes across the US are once again fixed on a Los Angeles courtroom for a trial involving police misconduct – this time with rare murder charges for an on-duty police officer.
Opening statements began Thursday in the trial of former Bay Area Rapid Transit (BART) officer Johannes Mehserle for the New Year's Day 2009 killing of Oscar Grant on an Oakland, Calif. train platform. Legal analysts say the trial's outcome will provide insight into the latest legal thinking on the issues of video evidence and juries' attitudes toward police brutality.
"You bet this is on the national radar," says former Maryland police officer Dr. Tod Burke, now a professor of criminal justice at Radford University in Virginia. "Police departments and communities across the country will be watching this carefully for the clues it gives about many of the top issues in law enforcement."
Mr. Grant was among a group of men who were detained after a fight on a BART train. Fellow passengers recorded the shooting and its aftermath on cellphones, and the video was viewed widely on TV and the Internet.
---