Teen sailor Abby Sunderland: I'll try again to conquer the globe
Teen sailor Abby Sunderland has done more by age 16 than most people do in their entire lives. A winter storm ended her solo sail around the world, but she's apparently not through yet.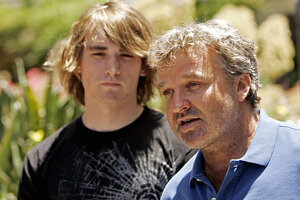 Newscom
Like an adventurer from a different time, California teen sailor Abby Sunderland remained undaunted Saturday, saying she will try again to solo the globe even after a winter storm in the Indian ocean broke the rigging on her 40-foot Wild Eyes sailboat.

On board a French fishing vessel that plucked Ms. Sunderland off the deck of her broken boat, the 16-year-old from Thousand Oaks, Calif., said the dismasting and subsequent rescue – a story that played around the globe – hasn't deflated her drive to sail around the world.
"I'm definitely going to sail around the world again, or at least give it another try," she said, according to Australian broadcaster ABC.
On Saturday, the Australian Maritime Safety Authority confirmed that Sunderland had been rescued more than 2,000 miles from the coast of Western Australia, two days after she lost communications and sent a distress signal.

Older sailors say her attempt to cross the Indian Ocean in winter was foolhardy. She faced 70-knot winds and waves three stories tall last week. Apparently a rogue wave flipped the boat, destroying the rigging and the keel. Sunderland was reportedly in fine shape after her rescue, only a "slight shake" in her voice, according to her mom, Marianne Sunderland.
---