Worldwide BP Protest Day vilifies BP for Gulf oil spill
Boycotts and protests against BP gas stations could hurt the wrong people. But public anger over the Gulf oil spill can no longer be contained, worsening the oil giant's prospects for survival.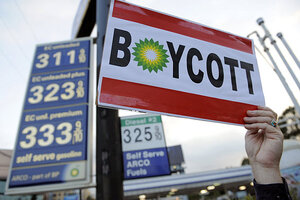 Chris Pizzello/AP
Smeared BP signs, bawdy protests outside BP headquarters in Houston, faux Twitter groups that satirize BP chief Tony Hayward and the company's bumbling as it attempts to control the Deepwater Horizon geyser and the blowback from the Gulf oil spill.
Fifty-four days into the Deepwater Horizon disaster, the court of public opinion continues to turn against BP and its role in the worst ecological mess in US history: The April 20 Deepwater Horizon explosion and subsequent spill is emptying up to 40,000 barrels a day into the ecologically sensitive Gulf of Mexico.
Some Facebook protest groups want the government to seize BP's assets. And on Twitter, a popular satirical feed tweets about BP chief Tony Hayward punching a dolphin for fun. Saturday, protesters are gathering in 44 cities worldwide – from Gulf Breeze, Fla., to Berlin, Germany – to vent their anger at the British oil giant.
---