Flag Day: What are the rules for displaying an American flag?
Monday is Flag Day in the United States. Flag Day commemorates the day in 1777 that the Continental Congress adopted the American flag.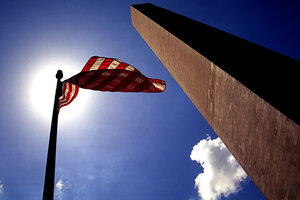 Newscom
Across the country today, Americans will be waving the Star Spangled Banner to celebrate Flag Day.
Although it is not a national holiday, Flag Day celebrates the day that the American flag was officially adopted by the Continental Congress in 1777. The resolution passed stated that the flag of the United States be made of 13 stripes, seven red alternating with six white, and that the union be 13 stars, white in a blue field, representing a new constellation.
Centuries later, the American flag's blue union has evolved to accommodate all 50 states, but the rest of the original design has been maintained.
IN PICTURES: Celebrating the American flag
The designer of the first American flag is still unknown, although historians believe it was either New Jersey Congressman Francis Hopkinson or Betsy Ross, a Philadelphia seamstress.
The colors of the American flag are symbolic: Red symbolizes hardiness and valor, white symbolizes purity and innocence, and blue represents vigilance, perseverance, and justice.
---