Gulf seafood safety inspections ramp up as oil spill spreads
NOAA and the FDA are teaming up to devise better guidelines for when federal waters should be closed because of the oil spill, and how Gulf seafood should be inspected.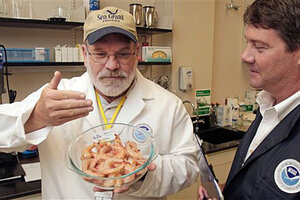 Bill Haber/AP
Seafood inspection off the Gulf of Mexico is intensifying this week as the federal government allocates more resources to preventing harvests contaminated by the BP oil spill from reaching US dinner plates and restaurants.
The National Oceanic and Atmospheric Administration (NOAA) and the Food and Drug Administration (FDA) are together orchestrating a more thorough system of checks and balances that includes water and seafood sampling, dockside inspection, and a renewed rigor in reviewing when federal waters can be reopened.
The efforts reflect the aggressive, multiagency approach President Obama is expected to emphasize in his Oval Office speech Tuesday evening. Monica Allen, a spokeswoman with NOAA, said "the level of collaboration is definitely ramped up" between the two agencies in the Gulf effort – a situation she described as "extraordinary."
---