Alvin Greene: Will South Carolina Dems yank him from their ranks?
Outsider-extraordinaire Alvin Greene won last week's South Carolina primary without campaigning. Democrats are now determining whether Greene will remain a candidate with a 'D' next to his name.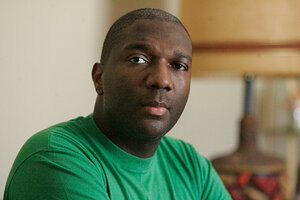 Mary Ann Chastain/AP
Alvin Greene shocked the political system by winning a South Carolina Democratic primary for the US Senate. Now his campaign is in the hands of state Democrats, who'd rather see him go far, far away.
An unemployed Army veteran with a criminal charge against him, Mr. Greene beat former judge Vic Rawl 59 to 41 percent in the June 8 primary. The state Democratic Party is hearing evidence Thursday that includes reports of faulty voting machines and allegations of a put-up job as party officials decide Greene's future as a Democratic candidate.
Yet it's possible that party bosses will have to say that Greene simply won – and, ultimately, that the party itself may be as much to blame for not scrutinizing Greene earlier.
"Up and down the political spectrum, you find this problem of races without well-known candidates, and somebody for some bizarre reason ends up doing well," says Mark Tompkins, a political science professor at the University of South Carolina in Columbia. "That said, you would assume that a major party would have a well-known candidate for the US Senate, and the fact that [the South Carolina Democratic Party] didn't is a reflection of the weakness of the party."
---