As US and EU slap on more Iran sanctions, Russia is miffed
The US and EU announce Iran sanctions that go beyond those approved by the UN Security Council last week. Moscow decries their 'political disregard for their partnership with Russia.'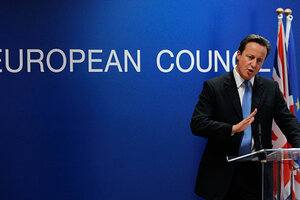 Francois Lenoir/Reuters
The European Union followed the United States in approving its own tougher sanctions on Iran Thursday, targeting Iran's oil and gas industry a day after the US Treasury slapped new restrictions on a number of Iranian banks, companies, and members of the Iranian Revolutionary Guard Corps.
But the EU and US measures, which go beyond the new sanctions approved by the United Nations Security Council last week, drew a blast of condemnation from Russia, which said the separate measures undermine the major powers' joint effort to influence Tehran over its nuclear program.
In a statement calling the US and EU actions "unacceptable," the Russian Foreign Ministry criticized the US and EU for putting themselves above the Security Council and weakening "the foundations for our dialogue and interaction." Russia joined the US, France, Britain, China, and seven nonpermanent members of the Security Council in voting for a fourth round of sanctions on Iran June 8.
---