BP oil spill victims: Obama offensive comes too late
The $20 billion escrow account is good news, but efforts to speed up the BP oil spill claims process are behind the curve, Louisiana business owners say.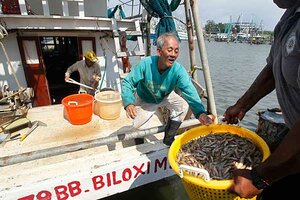 Tony Avelar / The Christian Science Monitor
The promise of $20 billion in recovery money for lives disrupted by the BP oil spill is meant to boost not just the financial health of affected businesses, but possibly the spirits of those who run them.
But to some people making a living in coastal communities along the Gulf of Mexico, Wednesday's pledge from Washington did not arrive soon enough.
Eight weeks after oil started rushing out of a wrecked wellhead 40 miles off the Louisiana coast, many are already living month-to-month because business has dwindled so dramatically.
IN PICTURES: Companies that have paid big for environmental disasters
There are doubts that whatever money businesses can claim will not arrive fast enough to save local businesses from closing their doors as early as next month.
"I'll believe it when I see it," says Kirth Thibobeaux of the promised recovery money.
Mr. Thibobeaux, the owner of Jeep Seafood outside Houma, La., says that in a normal season he sells a daily bounty of freshly harvested oysters, crabs and shrimp. But ever since his suppliers were forced to earn new livings working for BP – his shrimper is laying boom and his crabber is cleaning oil-slicked animals – his stock is drained. For now, he is subsiding on the last few days of crawfish season, which started in March and runs though late June. "When that goes we're in trouble," he says. He has filed two claims with BP and is waiting for payment on the second.
---