NBA Finals: Celtics, Lakers have game 7 date with history
Of the NBA's 63 championships, the Boston Celtics and Los Angeles Lakers account for 32. The Lakers trail the Celtics 15 to 17 in NBA Finals championship banners heading into Thursday's decisive Game 7.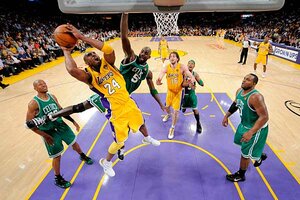 Mark J. Terrill/Reuters
Despite the fact that the Boston Celtics and Los Angeles Lakers have met in the NBA finals 12 times – and together account for more than half of the league's 63 championships – tonight's game represents only the fifth time the series has reached a game seven.
Because Boston has won all four previous seventh-game meetings with the Lakers, and lead the NBA championship count 17 to 15, the stakes are that much higher in this classic NBA match-up.
The rivalry, heightened by the social dimensions of East Coast vs. West Coast, working class grit vs. Hollywood glitz, and old tradition vs. air-conditioned luxury, is credited with saving the NBA during the low attendance and TV ratings of the 1980s. But the classic meetings between Larry Bird and Magic Johnson in 1984, 1985, and 1987 died off with the retirements of Bird and Magic and the rise of the Chicago Bulls for a five-championship dynasty in the 1990s.
After the Lakers won three championships in the 2000s, the Celtics rose to prominence again as well, beating the Lakers in the finals in 2008, the teams' first finals clash in 21 years, reintroducing the rivalry to a new generation.
In tonight's decisive game, the Lakers will have home court advantage. All eyes are on the key new player for L.A., Ron Artest, and Boston's Rajon Rondo, who is considered by most a much improved player over 2008.
---