Gulf oil spill plumes: what is known so far
Scientists have found evidence of at least two undersea plumes from the Gulf oil spill. The plumes appear to be diluted, but still a threat to the foundations of the Gulf food chain.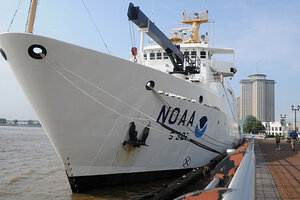 Steven Johnson/Miami Herald/MCT/Newscom
Scientists are groping in the deep, lightless waters of the Gulf of Mexico, trying to take the full measure of oil that has been detected several thousand feet below the surface.
The undersea clouds are tenuous. Oil concentrations measured so far have been very small – akin to diluting a half-ounce of oil in every 1 million ounces of seawater.
Still, the oil and its companion, methane, represent an unseen but worrisome presence from the Gulf oil spill, now in its ninth week, researchers say.
Some of the creatures most vulnerable to diluted oil are among the ocean's smallest and least able to avoid plumes – various forms of plankton, as well as larvae of fish and corals. Early research suggests that, while microbes are eating the oil, they are also consuming oxygen vital to undersea ecosystems.
Scientists are wary of drawing sweeping conclusions from what so far are limited data. Too much is still unknown about the situation – from the spread of the plumes to the effect of oil and chemical dispersants in deep water. But scientists are gathering as much information as possible on the plumes, knowing that new data are crucial to projecting the plumes' potential effect on the Gulf's undersea ecosystems and the fisheries they sustain.
Which animals are at risk?
---