How do Kobe Bryant's Lakers stack up against other dynasties?
The Lakers' win Thursday night, behind superstar Kobe Bryant, sealed the team's second-straight NBA Finals victory. But the team has yet to equal the accomplishments of other dynasties.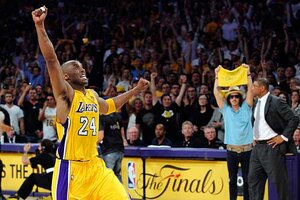 Mark J. Terrill/AP
In the aftermath of the Los Angeles Lakers' game 7 defeat of the Boston Celtics, sportswriters coast to coast are picking apart the statistics, momentum shifts, and all the "if onlys" that led to the win.
As team and city move past the inevitable emotion that has ensued, steadier minds will be asking the longer-range questions: How big a moment is this – really – for the Lakers in their own grand tradition and in the history of sports dynasties? How does this round of Lakers championships stack up against others in sports history?
Steve Aschburner, who has covered the NBA for almost 30 years (now with NBA.com) says the Lakers' 16 championships come with the asterisk that five of those wins were when the team was based in Minneapolis.
"Los Angeles has every right to be duly proud," he says. "Even though Boston stayed in one place and got 17," the Lakers are now within one championship of equal boasting rights with Boston.
The Lakers' recent success, however, is not equal to the great sports dynasties of all time, which Mr. Aschburner and others say include the New York Yankees, the UCLA Bruins under John Wooden (who won 9 national championships in 10 years), or even the mid-20th century Boston Celtics of the 1960s, who brought home 11 championships in 13 years.
---