BP moves a step closer to full containment of Gulf oil spill leak
Despite public missteps, BP made progress against the Gulf oil spill last week. It increased the amount of oil it is capturing, suggesting that plans to fully contain the leak might work.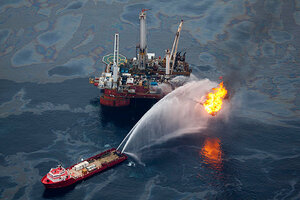 Daniel Beltra/Greenpeace/Reuters
BP's public relations gaffes in the Gulf oil spill are continuing, with chief executive Tony Hayward attending a yacht race in England Saturday. But on the sea floor, the company is making important headway toward containing all the leaking oil.
The Obama administration has forced BP to ramp up its oil-containment efforts, and President Obama has staked a fair bit of credibility on BP's success. He claimed in his Oval Office speech that BP would collect 90 percent of the oil by the end of the month.
So far, BP's redoubled efforts appear to be working.
IN PICTURES: The Gulf oil spill's impact on nature
BP collected a record 25,000 barrels of oil (1 million gallons) on Thursday. Previously, it had been collecting only about 15,000 barrels a day.
This puts BP on track to collect about 50,000 barrels a day by the end of the month. The best available scientific estimates suggest that between 35,000 and 60,000 barrels of oil are gushing from the wellhead.
---