Faisal Shahzad calls Times Square bomb plot 'war,' pleads guilty
Faisal Shahzad, the Pakistani-born US citizen accused of attempting to detonate a car bomb in New York's Times Square May 1, defiantly told a New York court he considered himself a 'Muslim soldier.'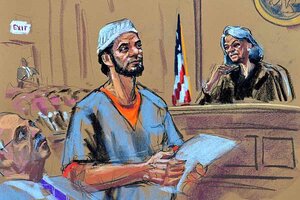 Jane Rosenburg/Reuters
Faisal Shahzad, the suspect in the Times Square bomb attempt, pleaded guilty Monday to using weapons of mass destruction – a plea that could mean he will spend the rest of his life behind bars.
Mr. Shahzad's admission of guilt had been expected. He waived his right to a speedy arraignment, and he gave the US government information about his training and contacts in Waziristan, Pakistan, with explosives experts.
What was not expected was the defiance with which Shahzad defended what he did. Shahzad told US District Judge Miriam Goldman Cedarbaum he was a "Muslim soldier" avenging the deaths of Muslims killed by Americans overseas, and that he didn't care that his bomb could have killed children.
"It's a war. I am part of the answer to the US terrorizing the Muslim nations and the Muslim people," he said.
Asked whether he was certain he wanted to plead guilty, Shahzad said he wanted to plead guilty 100 times more, and warned that if the United States did not leave Iraq and Afghanistan, "we will be attacking [the] US."
---