Has BP oil spill canceled summer on the Gulf Coast?
Cancellations rates have reached 80 percent at vacation properties along some parts of the Gulf Coast, including Pensacola Beach, due to the BP oil spill. Summer just isn't the same if you can't go in the water, tourists say.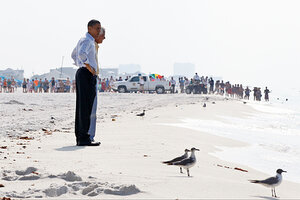 Charles Dharapak/AP
Santa Rosa Island, the home of Pensacola Beach, is known as the "Las Vegas of Beach Weddings," but 65 percent of planned weddings on this historic island have been scrapped this summer as the Gulf oil spill begins to sully the beaches on a larger scale.
Brides-to-be throwing out plans that often take more than a year to prepare because of the oil is emblematic of a stunning fact that many Gulf Coasters are struggling to understand after the solstice: Summer as they know it is effectively canceled.
"I'm not sure what to do with this summer," says Maresha Foster, a teacher who usually spends most of her summers on the beach – and in the aquamarine Gulf waters.
IN PICTURES - Staff shots: Response to the oil spill on the Gulf Coast
Escambia County, Fla., where puzzled tourists stared at large puddles of oil on the beach Wednesday, is advertising as far north as Rhode Island, with slogans such as "The Gulf looks inward." "Theres plenty of other things to do," says Claricia Lake, who lives in Gulf Breeze. "We're managing as best we can."
---