Gulf oil spill: Judge won't budge on deep-water drilling moratorium
A federal judge said Thursday that he will not reconsider his decision to overturn a six month deep-water drilling moratorium stemming from the Gulf oil spill. That means Interior Secretary Ken Salazar might need to look for a Plan B.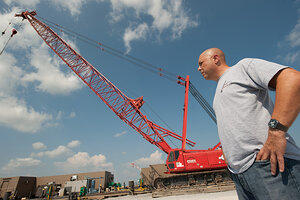 Saul Loeb/AFP/Newscom
The New Orleans federal judge who on Wednesday struck down the Obama administration's six-week moratorium on deep-water drilling refused a government request to delay that decision Thursday.
It is the latest in a series of setbacks for the administration, which imposed the suspension on May 27, about a month after the Gulf oil spill began. The goal was to give investigators time to understand what caused the April 20 Deepwater Horizon blowout and to propose solutions.
The Interior Department has said it will appeal the decision, but Interior Secretary Ken Salazar is also being forced to consider other means to salvage the moratorium, and experts suggest the fastest and perhaps simplest way would be to revise the moratorium itself.
IN PICTURES - Staff shots: Response to the oil spill on the Gulf Coast
Judge Martin Feldman said Thursday that he refused to delay his decision for the same reasons he overruled the moratorium it in the first place: The Interior Department did not "explicitly justify" the need for the temporary suspension in its report on the subject.
---