Gulf oil spill's wildlife toll: sharks near shore, turtles incinerated
The Gulf oil spill has killed local wildlife not only with oil but also in cleanup efforts. It may have changed the behavior of some animals, too. But its hard for scientists to draw a direct link.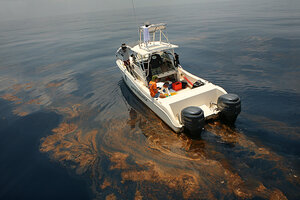 Carolyn Cole/Los Angeles Times/Newscom
A sunbathing family spots a beached baby dolphin covered in oil from the Gulf oil spill. The family tries to scrape off the oil until a wildlife officer, jaw hard-set, carries it to shore. On its way to a sea mammal rescue center in Panama City, the dolphin dies.
To many Americans, this might be one of the more enduring images of the Gulf oil spill – dolphins washed ashore, sea turtles dead, pelicans coated in oil. Yet for scientists attempting to count the cost of the Gulf oil spill to local wildlife, the task is not nearly so obvious.
Many dead animals could be sinking before being discovered in the vast Gulf. Autopsies of those found are usually inconclusive, because toxins are quickly metabolized by animal tissue. And the Gulf has long had its own set of environmental problems.
IN PICTURES: Sticky mess: The Gulf oil spill's impact on nature
Recent reports of massive fish kills in Florida and Louisiana, for example, could simply be part of normal events that come with the heat, algae growth, and cyclical events in the deep strata of the Gulf and that starve some Gulf waters of oxygen.
"There is a lot of evidence that over years with no oil spills there have been massive die-offs in the Gulf," says Thomas Shirley, a marine biologist at Texas A&M University in Corpus Christi. "But that's not saying the well isn't having any effect on what we're seeing now."
Sea creatures' strange behavior
---