Tropical storm Alex threatens to delay Obama's '90 percent' promise
Tropical storm Alex has created rough seas at the Deepwater Horizon site, potentially delaying until July BP's plans to double oil collection at the well in the Gulf oil spill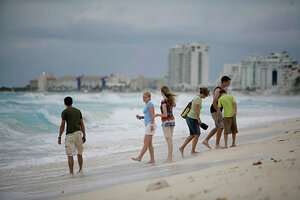 Gerardo Garcia/Reuters
Tropical storm Alex might not be in the Gulf oil spill's neighborhood, but it is already threatening to delay a plan to double the amount of oil captured at the well, and it could cause further disruptions later this week, officials said Monday.
Because of Alex, waves at the Deepwater Horizon site are currently at about five to six feet. That could delay the deployment of the Helix Producer, a ship that can process about 25,000 barrels (1 million gallons) of oil daily, said Coast Guard Adm. Thad Allen, the federal government's emergency response coordinator, in a press briefing Monday.
BP Vice President Kent Wells told NOLA.com Monday that the decision to delay the deployment of the Helix Producer had already been made. "While we were on track for June to bring on the Helix Producer, it'll be roughly a week after that, somewhere around the sixth or seventh of July," he told the website.
---