Hurricane Alex, first of 2010 season, heads for Texas, Mexico
Hurricane Alex, after slamming Belize as a tropical storm Thursday, was declared a hurricane Tuesday evening. New extended hurricane warning rules are meant to give more precise, earlier warnings.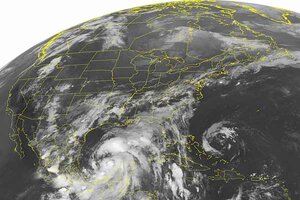 AP
What began as a grumpy blotch of storm clouds over the Caribbean has become Hurricane Alex, the first of the 2010 Atlantic hurricane season.
The National Hurricane Center in Miami has posted hurricane warnings for a swath of the western Gulf coast from La Cruz, Mexico to near Texas's Baffin Bay. Tropical storm warnings extend farther along the Texas coast to Port O'Conner.
Forecasters say they anticipate a three- to five-foot storm surge north of where the eye makes landfall. The surge is expected to be capable of driving several miles inland before dissipating. Rainfall amounts are expected to range from six to 12 inches, with some isolated locations recording 20 inches of rain before the storm passes.
IN PICTURES: Huge hurricanes in the past two decades
The storm struck Belize June 24 as tropical storm Alex, then weakened as it passed over Mexico's Yucatan Peninsula and into the western Gulf of Mexico. Heavy rains fell on the Yucatan Peninsula, as well as on Guatemala and El Salvador.
---
Follow Stories Like This
Get the Monitor stories you care about delivered to your inbox.