Hurricane season bears down on BP Gulf oil spill
The season's first tropical weather system is disrupting cleanup efforts and has raised the anxiety level along the Gulf Coast. Where's the emergency storm plan, some officials are asking?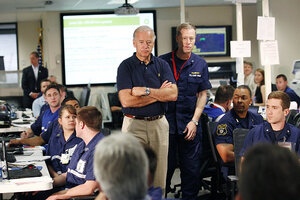 Gerald Herbert/AP
Vice President Joe Biden arrived in New Orleans Tuesday for his first visit to the BP oil spill disaster zone just as the season's first tropical weather system disrupted cleanup efforts and raised anxieties along the Gulf Coast.
Meeting recently-unemployed seafood workers outside the closed Pome's Seafood crab-processing plant in eastern New Orleans, Biden said the Obama administration will continue to support the Gulf region well after the out-of-control BP oil will is finally capped.
"We're going to make it whole – we ain't leaving," said Biden.
IN PICTURES: The Gulf oil spill's impact on nature
Among other issues, Biden promised greater coordination between state and federal oversight of fishing waters in the Gulf affected in the spill, so fishermen will be able to more easily fish and sell their catch from waters deemed safe. Biden later traveled to Pensacola Beach, Florida. His visit to the Gulf is the most recent of over fifty trips by administration officials since the oil well disaster started in April.
---