After Gulf swimmers report illness, questions about opening a beach
Hundreds of beachgoers told health officials they felt unwell after swimming last week at oil spill-affected Pensacola Beach, Fla. Scientists cite many unknowns about the safety of swimming and working around the spill.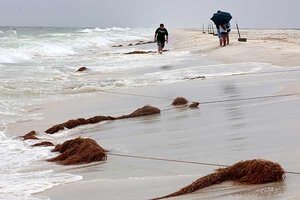 Dave Martin/AP
Santa Rosa Island officials flew the double-red flag – no swimming – over Pensacola Beach in Florida after a swath of thick oil washed ashore from the Gulf oil spill June 23.
Two days later, against the warnings of federal health officials and based on a visual survey of the beach, the local island authority director, Buck Lee, reopened the beaches for swimming, urging residents and tourists to come back to the beach. Officials left the ultimate decision on whether it was safe to swim to beachgoers.
This week, health officials in Escambia County, Fla., which includes Pensacola Beach, reported that about 400 people claimed they felt sick after visiting the beach and swimming in the Gulf.
The massive oil slick hovering off the shore of the US Gulf Coast threatens an entire tourist season that, in Florida alone, represents $65 million in revenue.
The situation in Pensacola Beach points to the growing difficulty of balancing the potential and largely unknown health effects of a spill making only localized landfall against the political and economic motivations of hard-hit beach communities facing a canceled summer.
---