BART case: As Oakland awaits Mehserle verdict, a push for peace
Oakland community groups are educating young people about the justice system and the ill effects of rioting in the lead-up to a verdict in the trial of a white former transit police officer accused of murdering a black passenger.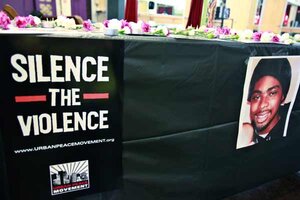 Paul Sakuma/AP
Oakland police are undergoing refreshers on crowd-control. Businesses are boarding up storefronts and removing dumpsters. City officials are calling for cool heads. Bloggers and columnists are pleading for public calm.
Anxious anticipation reigns as the city of Oakland awaits the verdict in the trial of Johannes Mehserle, a former Bay Area Rapid Transit (BART) police officer charged with murdering passenger Oscar Grant on a train platform in January 2009. Closing arguments Thursday and Friday have officials worried over a possible repeat of the clashes that occurred after Mr. Grant's death, when businesses were vandalized, cars and dumpsters set ablaze.
"The city and police have been very proactive in reaching out to businesses and residents to make sure they have up to date information and are aware of police support from other jurisdictions," says Scott Peterson, Public Policy Director for the Oakland Metropolitan Chamber of Commerce. "We had riots following the incident itself and no one is taking any chances," he says
But several community groups are also going on the offensive – for peace.
A YouTube video produced by the Oakland group "Youth Uprising" has a long list of local activists, poets, rappers, police, district attorneys and regular Joes admonishing watchers to "denounce all forms of violence." The not-for-profit organization, supported by Alameda County and the City of Oakland, helps give underprivileged youth options.
---